Gerne stellen wir uns einmal bei Euch vor. Die Hard Radioshow entstand 2005 durch Mercedes Herrada und Kiwi Gejas und hatte das Ziel den Underground zu fördern und coole neue Bands zu präsentieren.
Da die Masse an guten Underground Bands dann doch nicht reichte, um alle 2 Wochen eine zweistündige Sendung zu füllen, erweiterte man die Auswahl auf alle gute Musilk der härteren Gangart.
Durch neue Moderatoren/innen kamen dann auch Bands aus dem Punk, dem Hardcore, dem Hardrock, usw. dazu.
Heute ist das aktuelle Team sehr breit aufgestellt und präsentiert Bands live im Studio und auf der Bühne. Dazu gibt es Neuvorstellungen, Festivalberichte, Verlosungen, Sondersendungen und regelmäßige Überraschungen! Auch haben wir wieder viele lokale Bands, die bei uns eine Plattform für neuen Scheiben finden.
Infos, Neuigkeiten und Playlisten zu den Sendungen findet Ihr auf unserer Facebook Seite und teilweise auch hier auf der Homepage.
Stay hard!
Die HRS Crew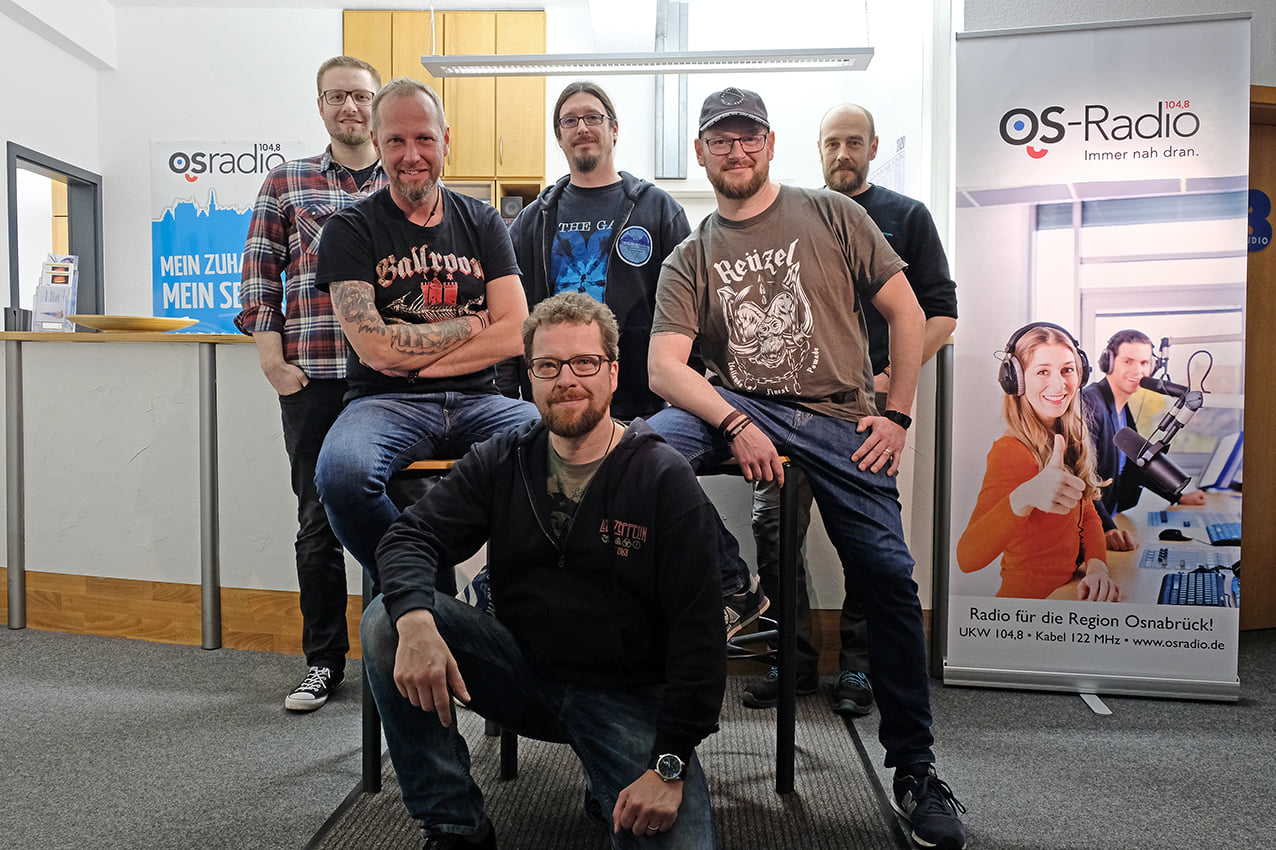 Tobias 'Tobi' Libeks, Christian Voß, Dennis Gersmeyer
Alexander 'Ali' Welz, Sebastian 'Sebe' Lübbers,
Frank Thiemann
Und hier noch ein Veranstalltungstip.
Die legendären Heathen + Toxic aus den USA und als Opener Breed mit reichlich Osnabrücker Beteiligung. Also hin da![KONZERT REMINDER]
.
HEATHEN & TOXIK
+ special guest BREED
.
.
Beginn 20:00 Uhr
Einlass 19:00 Uhr
.
HEATHEN, die Thrash Legende aus der Bay Area sind endlich zurück und beehren uns gemeinsam mit den ebenfalls fantastischen TOXIK.
.
Das neue Album 'Empire Of The Blind' setzt dort an, wo die gefeierten Vorgänger 'Breaking The Silence' (1987), 'Victims Of Deception' (1991) und 'The Evolution Of Chaos' (2010) deutliche Spuren in der hartmetallischen Geschichte hinterlassen haben, und setzt im bandeigenen Kontext neue Maßstäbe in Sachen Aggression, Melodie und Härte. Die Idee hinter 'Empire Of The Blind' war es ein Album zu erschaffen, das die Brücke vom Gestern bis ins Heute schlägt und durch kompaktes, fokussiertes Songwriting besticht. "Mission accomplished" kann man nur sagen!
Der Opener B R E E D präsentiert sich erstmalig mit neuem Drummer und brandneuen Songs. Man darf gespannt sein.
🤟🏻An Evening Of Metal Excellence!
.
Euer hypothalamus Team✌🏻
Tickets gibt es an allen bekannten Vorverkaufsstellen und online:
www.hypothalamus.de
.
.
.
.
.
.
#heathen #heathenband #thrashmetal #bayarea #metalhead #metalband #metalmusic #metalhead #metalheadsunite #metalgirl #thrashmetalband #hypothalamus #hypothalamusrheine #metalkonzert #konzertkarten #konzerte #livemusik #rheine #amfreitag #wasgeht
...